Hi, I'm Andy Goldberg. I've been performing casino analytics and building database solutions for over a dozen years.
I've worked at major resorts in Las Vegas, Atlantic City and elsewhere.
I wanted exposure to more challenges, a constant stream of new projects, and the ability to choose and utilize the best technologies.
In 2015, I founded this consultancy, Centerfield Nine, committing to exceed expectations on every client project.
I'm also the founder of, and speaker at, the Casino Analytics Professional Cooperative, the largest networking, educational and advocacy group for individuals involved in analytics and technology in the gaming industry.
Centerfield Nine specializes in presenting complex data clearly and simply, enabling executives to be better informed and make smarter decisions.
If you're frustrated with the reporting capabilities of your CMS system, I can help.
If you want to access data and KPIs on your mobile phone, or anytime you're not on site, I can help.
If you could take action based on real-time, rather than historical, data, I can help.
If your expensive marketing automation platform or BI system has not saved you time or money, I can help.
If your IT or P&A department isn't delivering on time, I can probably help.
KeepMyVIPs

VIP Customer Retention
A huge percentage of most casinos' overall revenue comes from a small group of VIP customers – ok, we all know that. But what surprises many casino operators is just how much those VIP contribute (often over 90%) and also, how many of them reduce their loyalty in a short period of time. About 40% of this year's VIPs will reduce their play the next year by half or more. That's a huge amount of potential revenue that is walking out of your casino's doors, likely to a competitor.

KeepMyVIPs uses data science and forecasting techniques to anticipate the players who are most at-risk, and notifies your hosts before they leave you, while the likelihood of retention is still high. KMV provides you with the names and details of the most important guests with whom to re-engage, and terrific mobile and desktop application to review all the playres live on your floor, and gaming histories for all you customers.
Project Results
Monthly mail processing
Compressed monthly database process for mail & offers from 6-8 days to under 4 hours. Casino realized savings over $50,000 per month due to greatly reduced printing costs, no more "rush" jobs or reprints, and utilization of standard mail. Enabled additional customization and individual exceptions to segmented offers for specific VIP customers. Error rate reduced to zero. Data uploads of offers into casino management system vastly simplified.
EBITDA Boost
As P&A Director, worked closely with property President and Exec Team to revise marketing strategy and slash operational costs, and identify low-performing assets, resulting in a doubling of EBITDA (admittedly, a low-performing property) in a single year.
Revenue Projections
Built a daily revenue forecasting model by game type that outperformed corporate version, increasing accuracy by 60%. Monthly total revenue projection within 3% of actual in all but 3 of 24 months. Accuracy boost enabled marketers to anticipate soft days and adjust programming to compensate.
Daily ETL Process
Reduced a casino's daily ETL process, from casino management system to data warehouse, from average 3½ - 5 hours daily, to averaging 12 minutes. Manual restarting due to data error reduced to zero. Huge boost in production due to all data being available to marketing, finance, and operations early every morning, rather than waiting until the afternoon.
Complex promotional game math
Designed Game Math for a casino's most popular promotion, a multi-week, multi-visit collection game similar to McDonald's Monopoly franchise. All prize probabilities and game piece frequency were designed to keep the promotion within the alloted budget and to delay a grand prize winner until the final 3 days of a 3-week promotion. Game has run 6+ times, every time successful from a budget and operational standpoint.
Reporting Examples
Real-time casino dashboards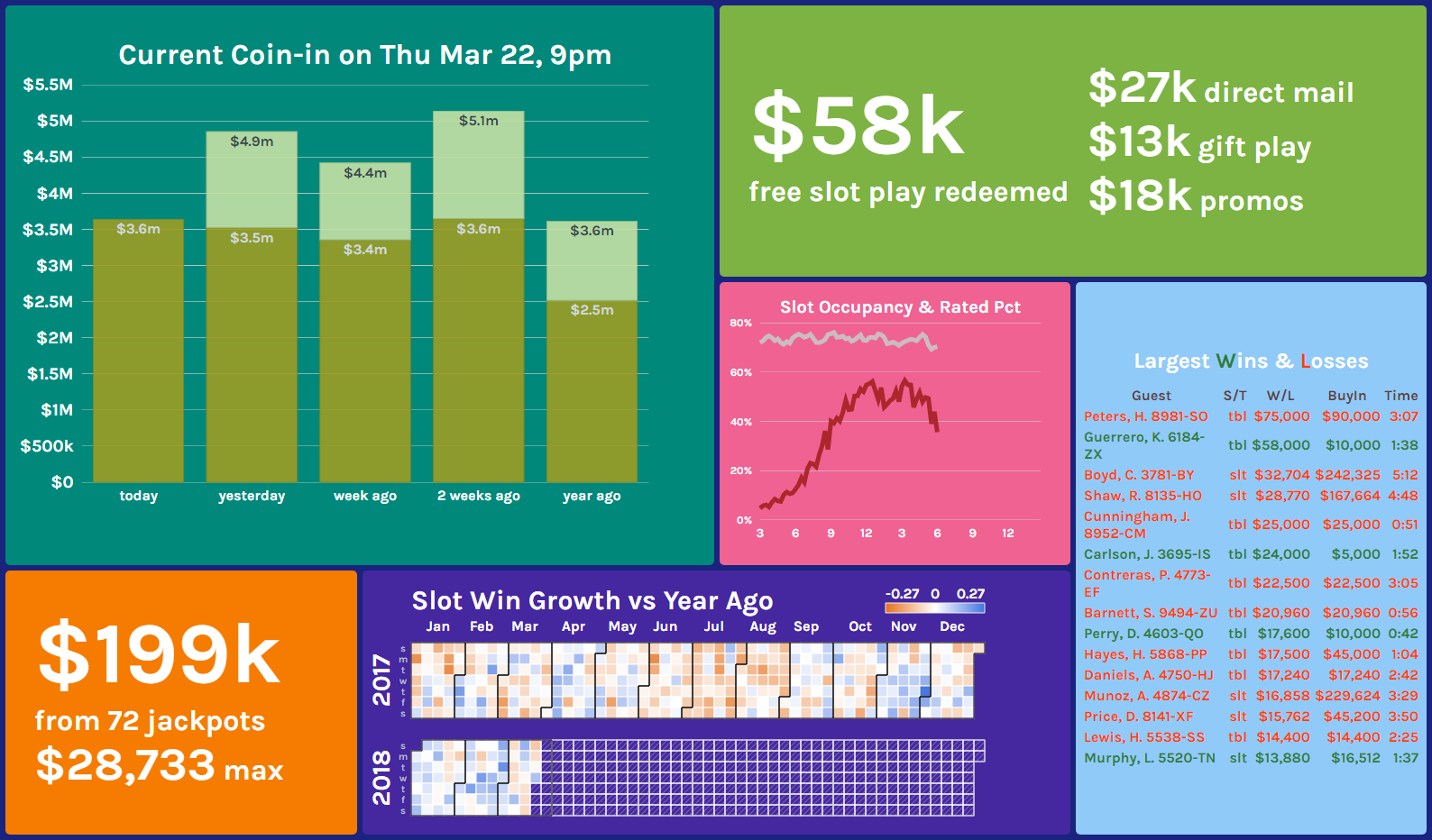 Live on-floor customer catalog, easily identify decliners and possible defectors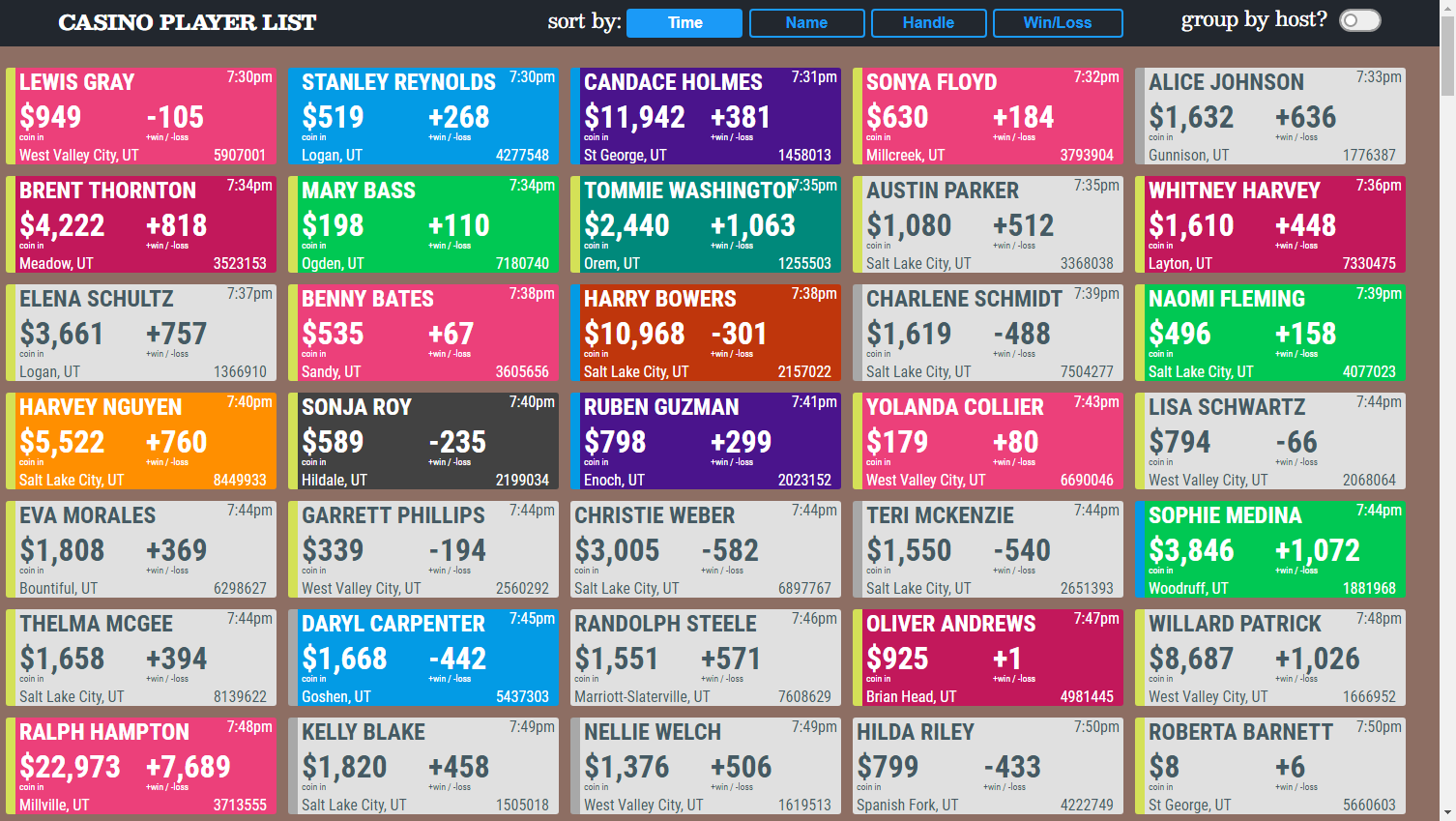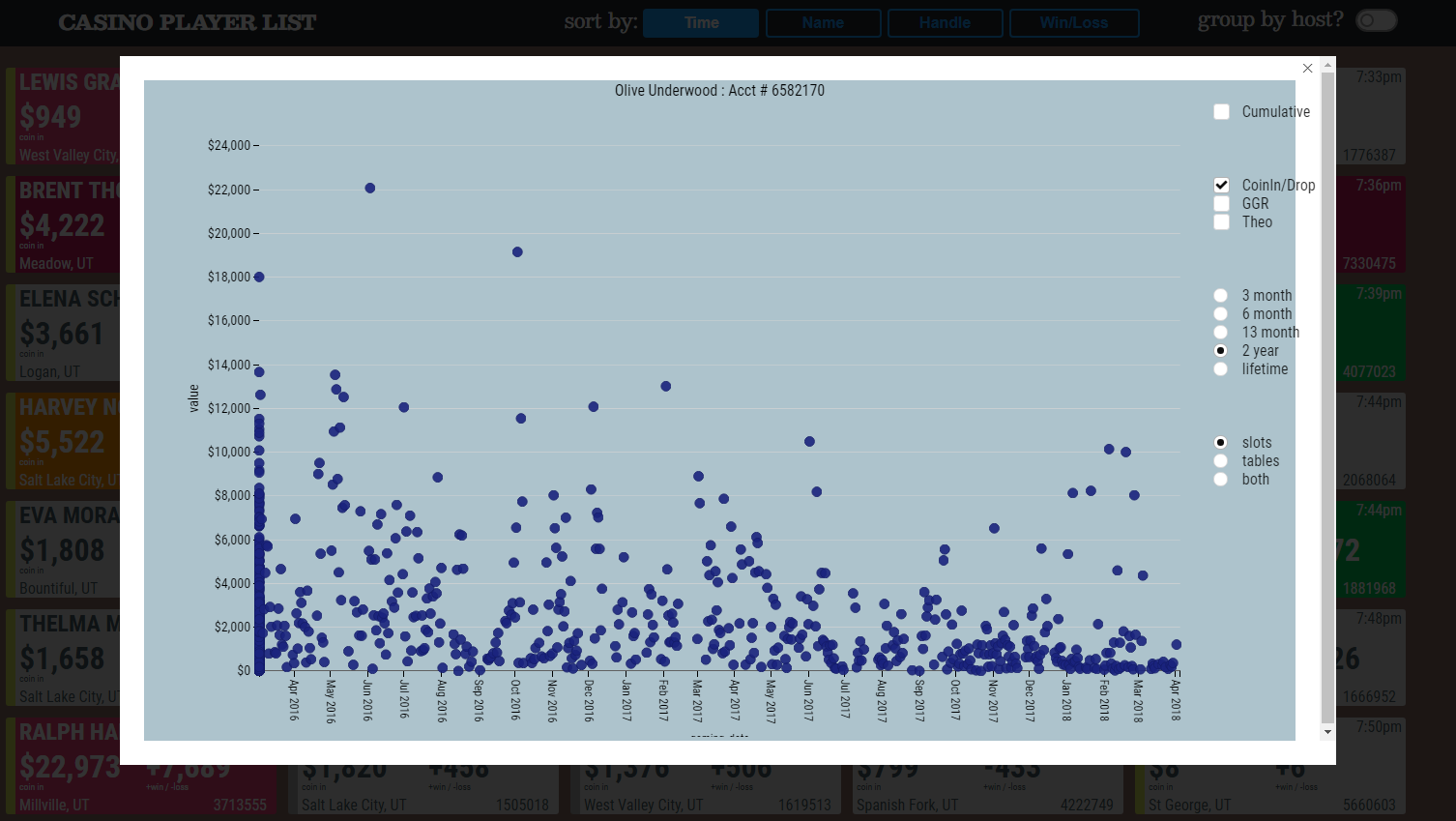 Forecasting (based on data, not budgets) slot and table games revenues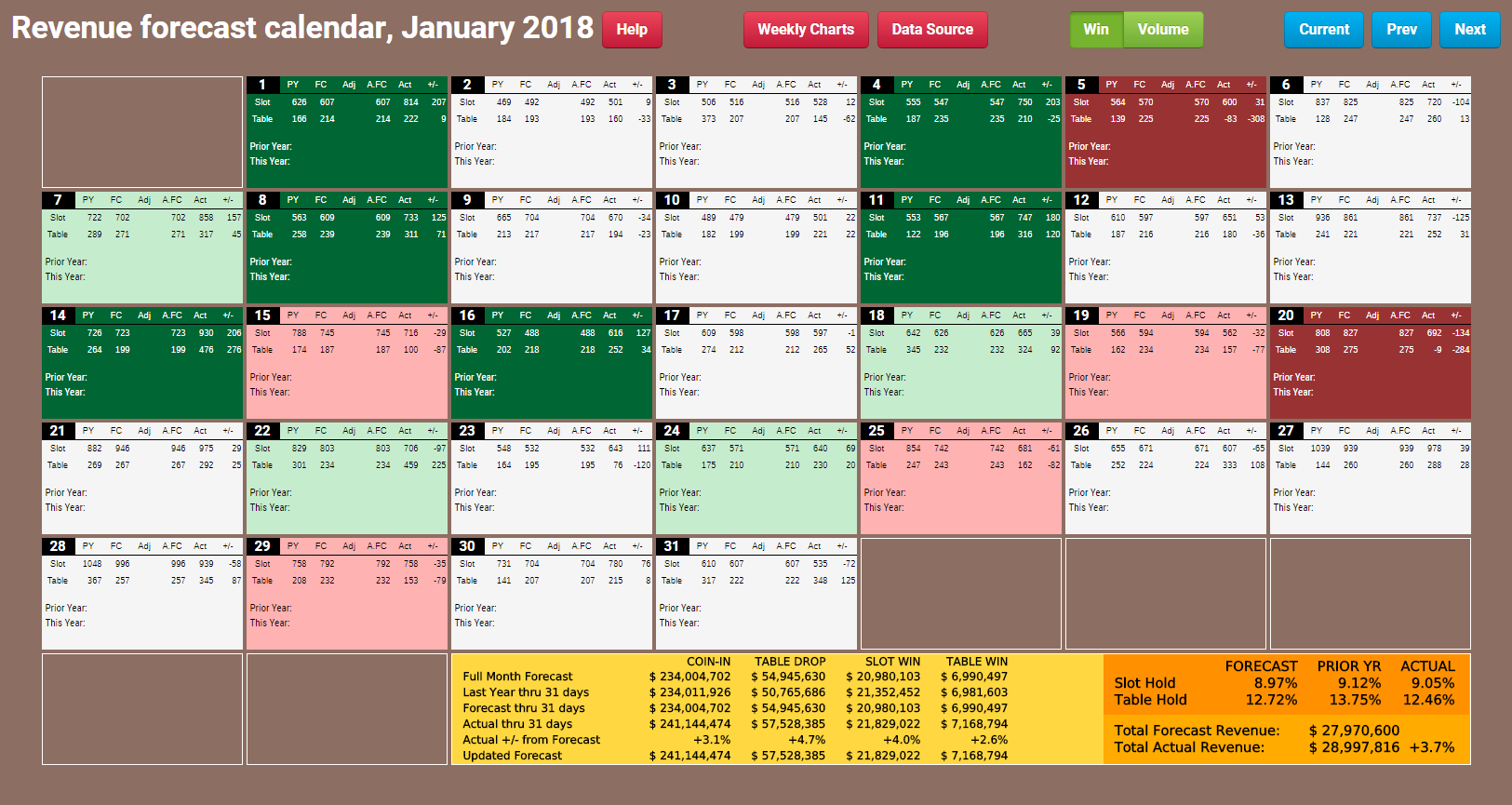 Analyzing trends in daily/weekly marketing spend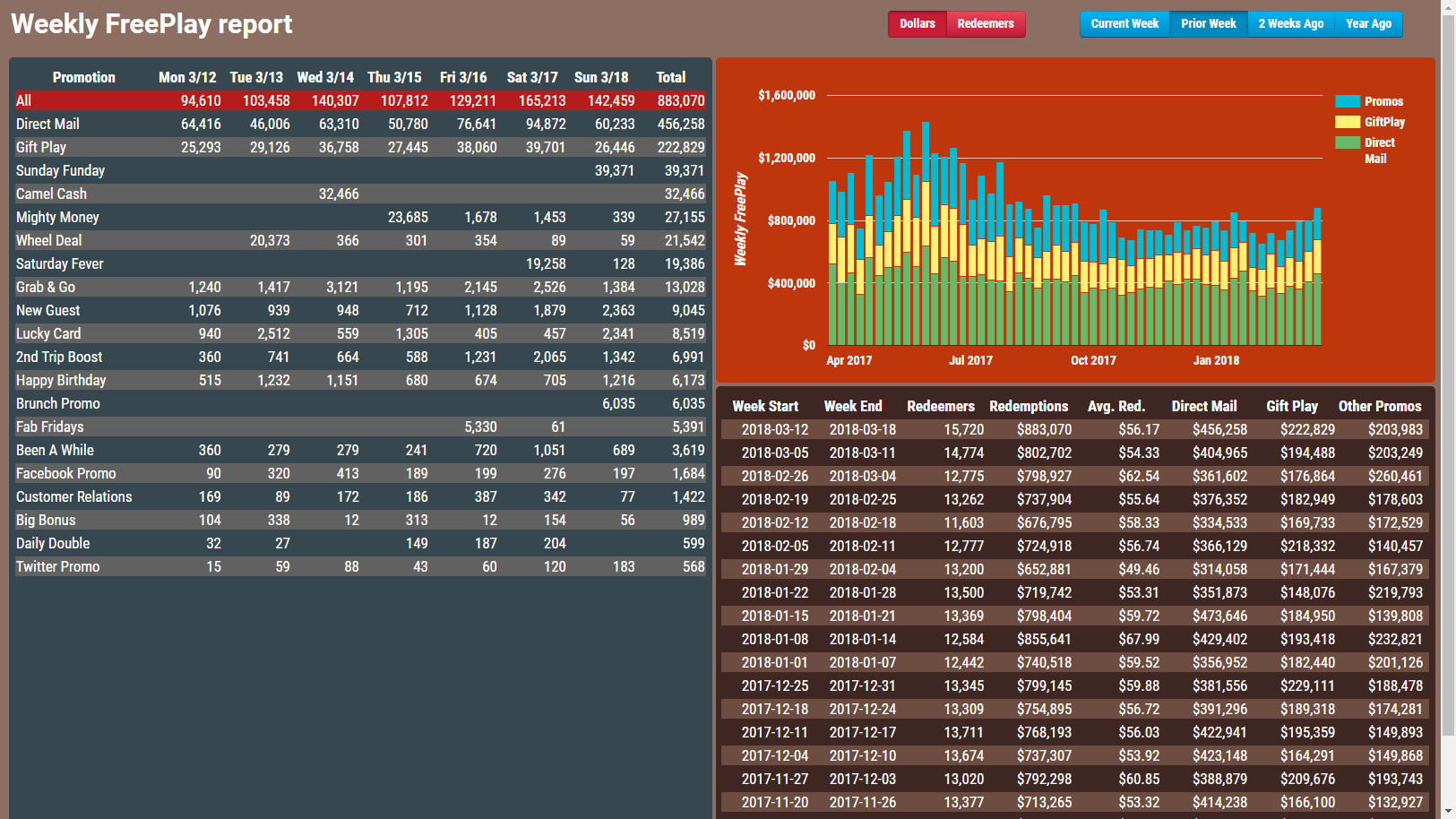 Detailed reporting on host contributions and progress towards targets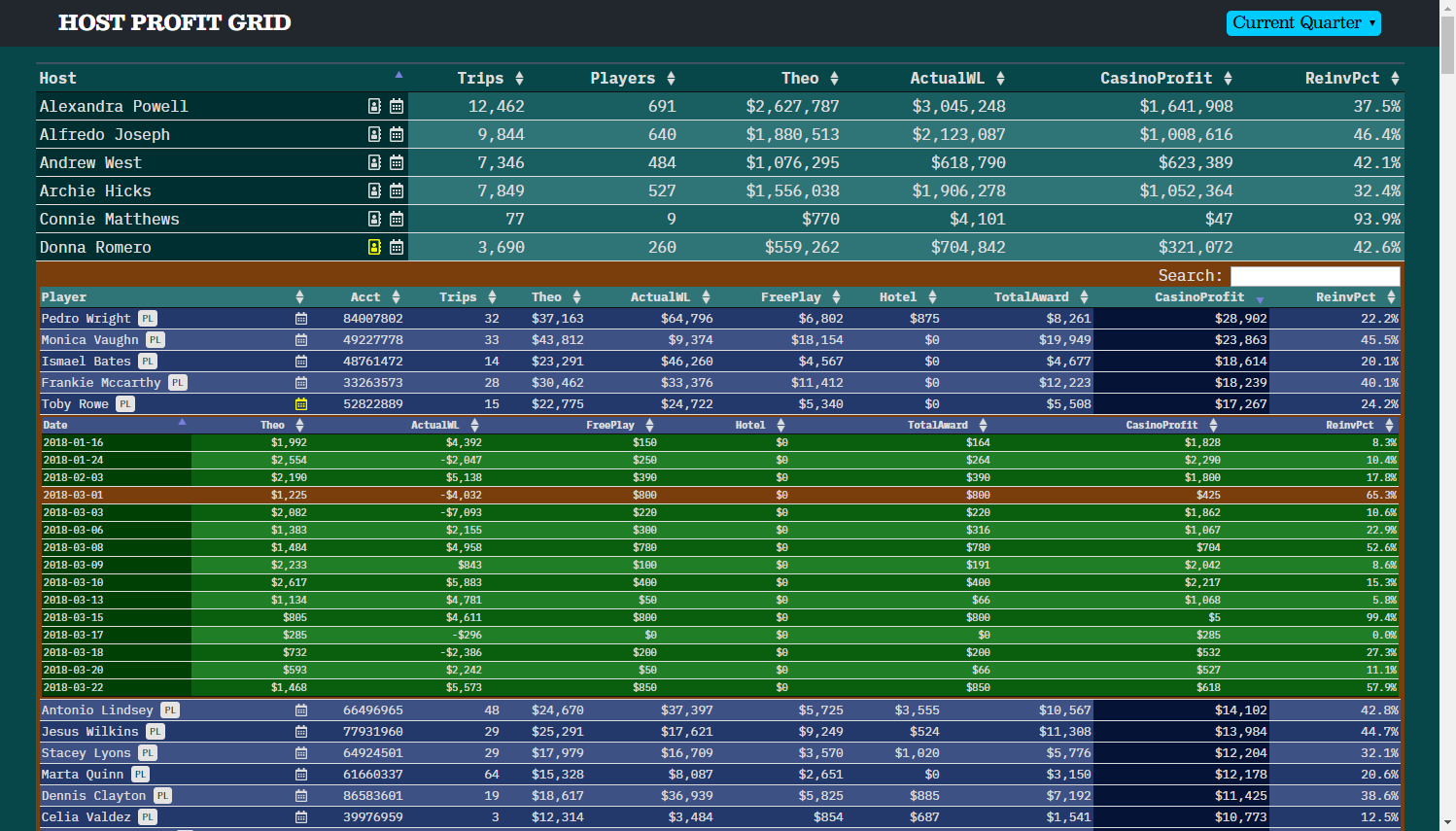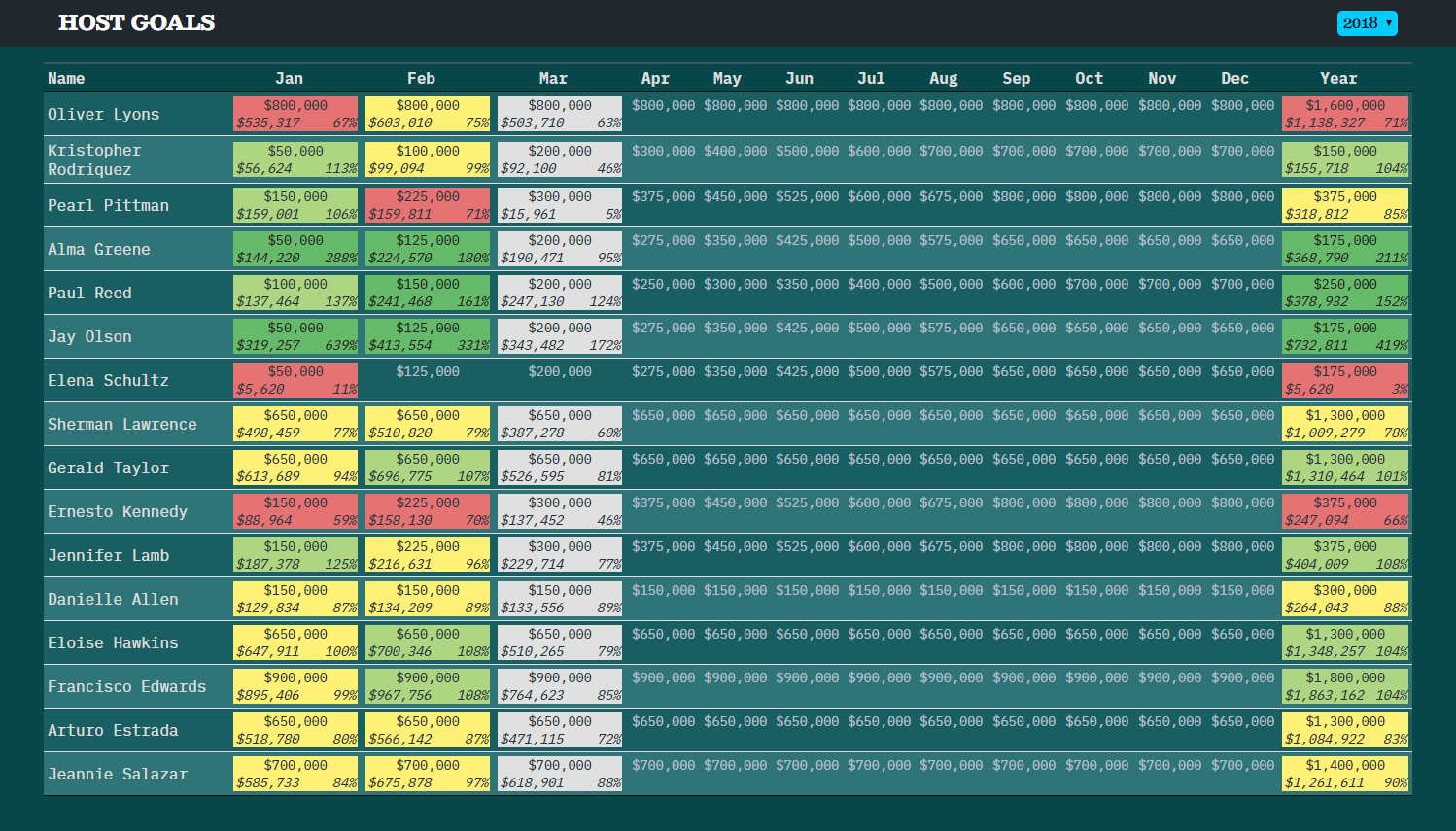 Segmented customer analysis of major marketing programs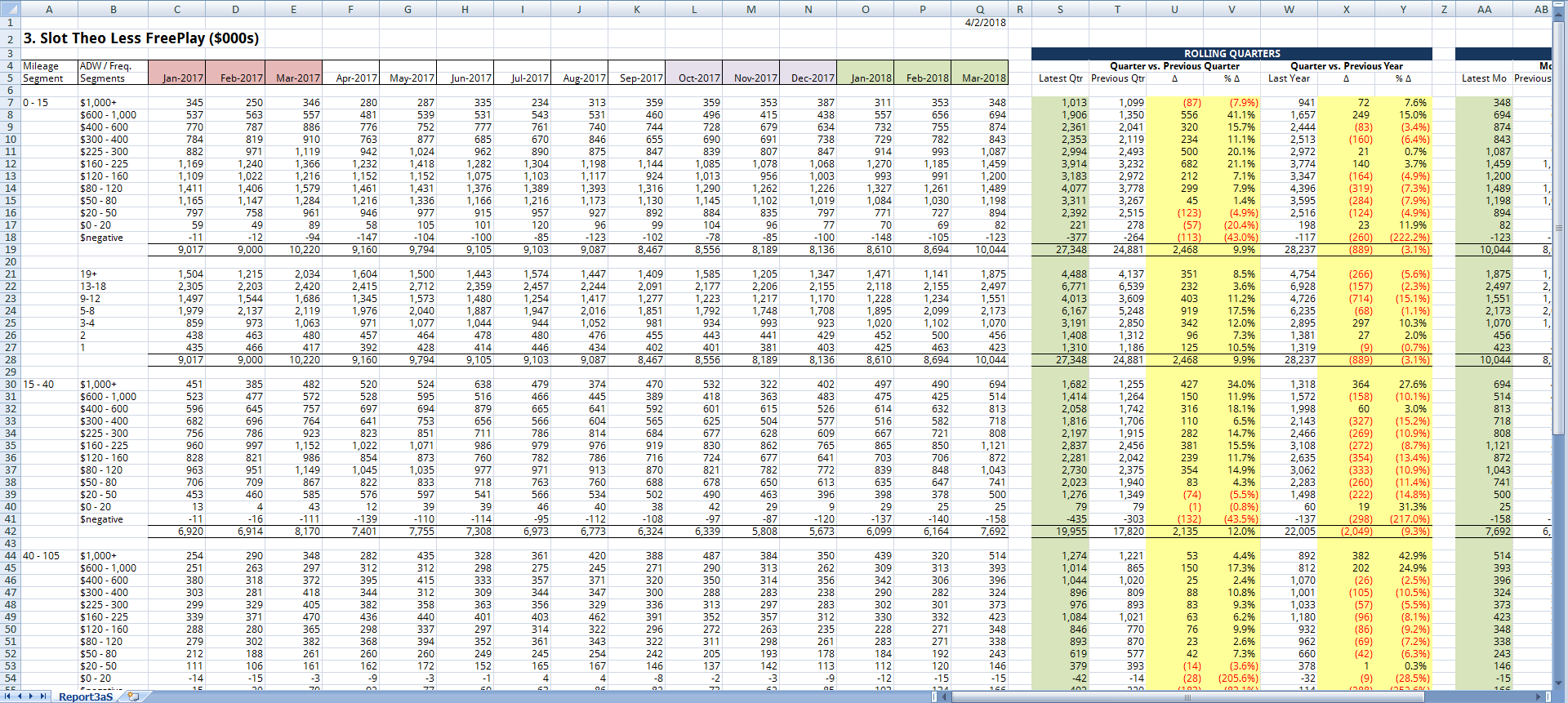 Can I help your casino?
A little bit more about me
I've worked at commercial and Native American casino resorts.
I've worked with CMS systems from Bally, IGT, and Aristocrat.
I have extensive experience with all major databases: SQL Server, Teradata, Oracle, PostgreSQL, SQLite, and BI tools: Cognos, Showtime, Business Objects, Tableau, PowerPivot.
Before the casino industry, I priced interest rate swaps and options at the top-rated trading desk in New York City, and later managed a portfolio of hedge funds.
Think I might be able to build something for you?
Rates are reasonable, and my schedule is flexible to accommodate various engagement types. Existing reports can be customized and billed on a subscription basis, while greenfield projects can be built to your spec.
I'm easy to reach by email: moc.eninfc

@

olleh

.org

I've also got a cool phone number: 1-800-CF9-9989.
Currently, I co-work at Work In Progress in Downtown Las Vegas. Previously, I was a member at The Work Loft in Bangkok, Thailand, and VentureX in Naples, FL.
Occasionally, I write about topics related to casino analytics. Read more at thehousesometimeswins.com.
What does Centerfield Nine mean?
At the craps table, the number 9 is displayed in the middle of the "Field" bet area. Along with other phrases like "hardways" and "yo eleven," "center field 9" is a popular call among croupiers.
The Work Loft in Silom, Bangkok, Thailand